May is an exciting time, offering a hint of the summer ahead. There are many events and special days to celebrate this month, some of which we've suggested activity ideas for below. Enjoy!
Purchase your copy of our 2022 Activity Wall Planner here
All Month: National Walking Month
This month-long initiative is designed to get us all walking more so we can reap the countless health benefits that it offers. Of course, many of your residents won't feel able to participate in much walking any more, so our AC mentor, Jan Millward, suggests inclusive ways to get your whole home involved in this event here.
2nd May: May Day
May Day celebrations date back to Pagan times. It marks the beginning of summer and is a bank holiday in the UK. Traditionally, small posies of flowers are handed out – these can be simple bunches of greenery from the garden and a few daffodils. Give a posie to each resident, volunteer and visitor to the care home on this day.
Speak to your local morris dancing group and ask if they can put on a demonstration for you. If not, use bells and boom-whacker pipes in chair-based exercise classes, and cut up an old sheet into handkerchief-sized pieces for waving. Use traditional English folk tunes.
As a group craft activity, invite residents to make a Green Man. This character comes from a Pagan legend associated with spring and rebirth. Using air-drying clay, ask each resident to cut out a leaf shape. Press all the leaves together into a circular shape, leaving room in the middle for a face. When the leaves are dry, paint them green.
8th May: VE Day
This year marks the 77th anniversary of Victory in Europe. There will be lots going on with the Queen's Platinum Jubilee, but this is another great excuse to get out the flags and bunting and remember the celebrations that marked this momentous occasion in history.
Many care homes have moved on from the old wartime songs, but an event like this allows us to dig them out once again. Some of your residents will have childhood memories of VE Day – encourage the sharing of these memories by holding a reminiscence session.
Aim to include some wartime recipes on the menu. Spam fritters are an easy and popular choice. Alternatively, ask your chef to make a Woolton pie (named after the Minister of Food in 1940, the 1st Earl of Woolton).
For another simple activity, gather red, white and blue buttons, and invite residents to glue them onto old CDs to make pretty window decorations.
12th May: Florence Nightingale's Birthday
Florence Nightingale is our 'person of the month' on our hub this month. Read all about her and discover some exciting activity ideas here.
14th May: The FA Cup Final
The FA Cup is the oldest and longest-running football competition in the world, so many of your residents will be excited to watch the action. Make sure everyone is aware of the time it is televised and that you have plenty of staff available to assist with needs at half-time. It is also important to arrange alternative activities for residents who do not wish to watch the football.
Once you know which teams are playing in the final, you can decorate your communal areas in the colours of the teams. Make paper flags for residents to wave and play famous football anthems, such as You'll Never Walk Alone (Liverpool) and I'm Forever Blowing Bubbles (West Ham) – how many can your residents sing along to?
Before the match, hold a warm-up session of chair-based football, using an inflatable beach ball. Pass it around the room between residents, and, if possible, set up a small goal for shooting.
25th May: Africa Day
Africa Day is the anniversary of the foundation of the Organisation of African Unity. Africa Day is intended to celebrate the culture, arts and history of the whole continent.
Today is the perfect opportunity for some loud music! Decorate some cheap buckets or tubs with African-style geometric art to act as drums. Use paintbrushes, wooden spoons or chopsticks as drumsticks, and play some traditional African music to beat your drums to!
This year, the theme of Africa Day is nutrition. Use this as a focus for your celebrations. Start by finding out if any of your residents hold links to Africa. There may also be people of African heritage in the local community. Invite them to visit, and ask them to bring in their favourite African recipes to try together. The continent of Africa is huge and very diverse, so there should be something to suit everyone's tastes!
Couscous, peri-peri chicken, jollof rice (a mixture of rice, tomatoes, peppers and meat) or mealie bread are good recipes to attempt making and eating together. Your residents will definitely have eaten many bananas in their lifetime, but have they ever tried plantain? It looks just like a green banana and is fried before serving. Have a fruit tasting session, offering a selection of exotic fruits. You could make smoothies for those who require a softer diet.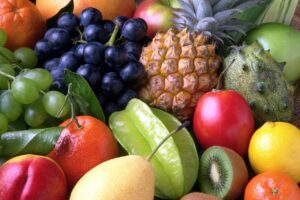 26th May: Ascension Day
Ascension Day is an important day in the Christian calendar. It always falls 40 days after Easter Sunday. The Christian belief is that on this day Jesus ascended into heaven. Some may wish to mark the day with quiet prayer or by singing a hymn. Appropriate hymns for the day include All Glory Laud and Honour and At the Name of Jesus.
The Ascension itself is recorded in the bible in the book of Acts, chapter 1, verses 6-11. It may be appropriate to have this printed off and read out to your residents. Alternatively, see if there is a member of the clergy who can run a prayer meeting in your home.
You could run an Ascension Day craft activity by making crosses with a stained-glass effect. Cut out a large cross using black card, then cut out the middle of the cross, leaving just the outline. Stick the outline onto clear, sticky-back plastic. Add torn-up bits of colourful tissue paper to the sticky centre, and hang proudly in a window!
24-28th May: RHS Chelsea Flower Show
The Chelsea Flower Show is generally regarded as one of the most prestigious garden shows in the world. It is widely covered throughout the week on TV, with experts and celebrities presenting programmes on all aspects of the show. Check the TV schedule and make sure those who are interested get to watch the programmes.
You could research local RHS gardens and arrange a visit with a group of residents.
Gardening is a great, easy topic of conversation. Use the event as an opportunity to discover more about your residents' life histories in relation to gardening. Did they have a garden? Did they grow vegetables or flowers, or both? What do they remember growing well? Some residents may say that their gardening days are behind them due to health issues or mobility limitations. However, with assistance and adaptations, you may be able to inspire them to get involved in gardening again.
Read tips on gardening without much outside space here.
We hope you find these suggestions useful. We always love to see and hear what our readers have been up to – please email photos and stories to for your chance to be featured in our Reader's Corner!