The Daily Sparkle products offer many resources specifically designed for people livng with dementia, including a huge variety of tools and activities suitable for one-to-ones.
The Daily Sparkle is a reminiscence newspaper that features topics, stories and people from the past. Presented in an easy-to-read format, it is used in a care home or domestic setting to provide conversation topics. The articles trigger happy and precious memories of the persons earlier life and, very importantly, get them engaged, talking and interacting. Each newspaper comes with additional Carers Notes which provide background info, further questions and ideas to generate conversation amongst your residents.
We are passionate about enabling the elderly and those living with dementia to live a happy, stimulated, fulfilled life. We believe that old age or dementia doesnt have to be a barrier to friendship, conversation, fun and laughter. Living with dementia can still mean life is full and has value. Moving into a care home can also lead to positive experiences and new friendships.
The Daily Sparkle can become a familiar friend in a world that can seem unpredictable. Even the routine of reading our daily or weekly paper can be a source of comfort to residents, while a clear reference to the days date helps with orientation.
As well as our daily newspaper, we also offer:
Activity Bank a digital library of easy to use activities, quizzes, puzzles and more
Our easy to use app, featuring interactive quizzes as well as the Daily Sparkle and music
Reminiscence music and video playlists each month
A weekly newspaper
A monthly magazine
You will also find lots more useful resources in our shop.
TAKE A FREE TRIAL OR A GREAT-VALUE SUBSCRIPTION
Save hours of preparation whilst providing wonderful fresh reminiscence material
Why Are Our Resources So Brilliant?
Designed for reminiscence, conversational activities and cognitive stimulation
Saves you time with a host of ready-to-use activities
Enables friends and family to connect with their loved ones with simple conversation topics
Helps residents to spark conversation with each other, making friends and reducing isolation
Can be used one-to-one, in residents rooms or in a group setting
Helps with a whole home approach, simple enough for ALL care home staff to use
Helps establish life story and background information, ensuring truly person-centred care
Recalls a time from their youth where residents felt happy, successful and confident, increasing their feeling of wellbeing.
Recognised by the Care Quality Commission for ensuring personalised and meaningful activity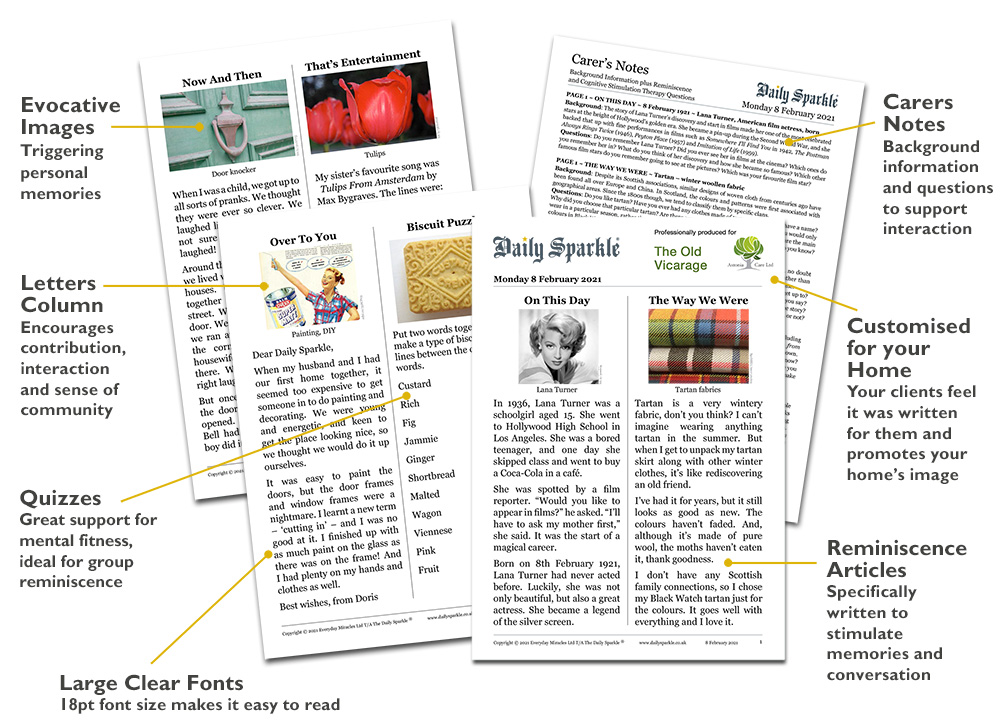 TAKE A FREE TRIAL OR A GREAT-VALUE SUBSCRIPTION
Save hours of preparation whilst providing wonderful fresh reminiscence material
Feedback from a Care Home Group Subscriber
"The Daily Sparkle is just brilliant. All our homes have been using the reminiscence newspaper for many months and have recently implemented the use of the Daily Stimulation Kit App. The resources support residents to remain engaged, entertained and stimulated, especially if they are self-isolating in their rooms or can't partake in daily activities.
It is also extremely important to us that our residents connect with their friends and families as much as they can during this period. We will be rolling out the Daily Stimulation Kit App to the families and loved ones of residents this week, and we know it is going to be a huge hit.
We will be encouraging families to read the same Daily Sparkle items that residents will read so that they can discuss the topics with them when they catch up via phone or video call. This will enable more meaningful and enjoyable topics of conversation. Additionally, families will be able to access the same entertainment items (quizzes, puzzles etc) for their own enjoyment as many will also be in isolation themselves.
We are grateful to the Daily Sparkle team – their tools are hugely beneficial generally, but even more in this current climate."
Jackie Pool
Director of Memory Care at Sunrise Senior Living UK and Gracewell Healthcare